Visit North Collier Animal Clinic in
Naples, FL for Exceptional Care for your pet.
Dr. Wade Ewing is dedicated to providing your pet with the highest quality in Veterinary Medical animal health care.
Visit Our Veterinary Clinic in Naples Florida for Exceptional Pet Care
"AWARD WINNING FACILITY"
We know you love your pet and want nothing but the best for your furry family member. At North Collier Animal Clinic, the best is what we strive for. With more than 30 years as a full-service, comprehensive veterinary clinic, we can help your pet get back to being a part of the family.
When you visit our veterinary clinic in Naples, FL, our skilled team assist you and your pet with:
Dermatological Care :
Routine Surgery:
Diagnostic Services:
Non-invasive healing:


We Also Offer Pet Boarding Services
"AWARD WINNING FACILITY"
At North Collier Animal Clinic, we take pride in being the clinic your pet likes to visit! If you are going away on a trip or have another need for sitting services, we offer superior pet boarding services. Your pet will receive personalized attention from our staff while here. Whether they like playing with a ball or enjoy being brushed, we are happy to accommodate all types of play!
All of our boarding areas are located indoors and are air conditioned. We also have two fenced in yards to allow play time for large and small dogs. This allows your pet to be comfortable and safe while enjoying play time. Check out the Kitty Condos and the Doggy Dens !!
Before you make the important decision of who gets to take care of your fur kid, stop by and play in our yard! Or, feel free to call us at (239) 597-1313.
******** We accept debit cards, credit cards (Visa, Mastercard, Discover, American Express) and cash. All cards must be signed by the owner of the card. Checks are accepted after becoming an established client.********

10895 Tamiami Trail North Naples, FL 34108
On U. S. 41 & 109th Avenue North
(Across from P.F. Changs)
239-597-1313
(FAX: 239-514-0423)
We have an app!!! Download today to start receiving loyalty rewards points toward future purchases! Click below to download!
---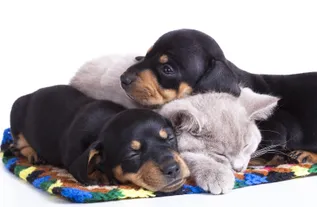 LUXURY DOG AND CAT BOARDING
Veterinarian Supervised DOGGY DENS
All indoor & Air Conditioned
Individualized Attention/Care
Extra Playtime & Daily Snacks
Ultimate Cat Facility Featuring
Kitty Condos

with separate potty area & lounging ledges in a sun-filled private room!
At this site, you will find information about our practice philosophy, our services, and helpful forms to assist you.
Thank you for taking the time to read about our veterinary practice and the services we offer. We welcome your comments and suggestions. Please contact us by phone or email for all your pet's health care needs.
If this is an emergency after hours please call the Emergency Pet Hospital at (239) 263-8010